Dr. Sam Harouni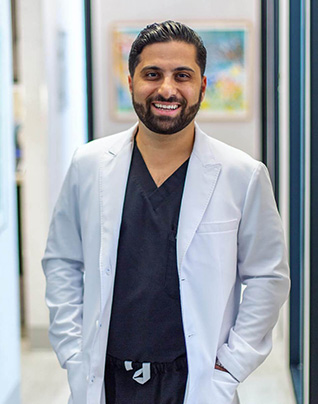 Dr. Sam Harouni, DDS is one of the most loved and respected oral and maxillofacial surgeons. He is an expert at providing treatments related to dental implants, TMJ surgery, extractions, and a wide array of minimally invasive surgery techniques. Dr. Sam Harouni loves to meet new people and guide them throughout the journey of getting a healthy and attractive smile. Be it reconstruction, restoration, or rejuvenation, his meticulous approach is what makes Dr. Sam the most loved oral surgeon in town. He works with each patient individually and gets to know them properly. The latest equipment and modern infrastructure are used to ensure that the treatments offered are of the highest quality.
Dr. Sam Harouni has received a Bachelor of Science degree in Anthropology from UCLA in the year 2009. He also pursued his Doctorate of Dental Surgery (DDS) degree at the University of Southern California (USC). After the completion of his graduation degree, he did a year-long internship in Oral and Maxillofacial Surgery and Head & Neck Cancer University of Florida, Jacksonville, followed by his Oral and Maxillofacial Surgery residency at Emory University School of Medicine. This is one of the leading research universities in the US and is one of the top-ranked hospitals.
Before setting up his dental practice, Dr. Sam Harouni invested his time and effort as a volunteer dentist via the dental humanitarian outreach program at the University of Southern California (USC) in Los Angeles. Dr. Sam was also the class representative of the Alpha Omega International Dental Fraternity at USC.
Dr. Sam Harouni uses the latest technology in dental medicine to provide the best quality TMJ treatments, full mouth restorations, bone grafting surgeries, etc. The treatment plans are designed from scratch to meet the specific requirements of an individual patient. Special emphasis is laid to yield the optimum outcomes.
Dr. Sam Harouni resides in Los Angeles and loves to spend his free time being with family, skiing, biking, and hiking.
For the convenience of the patients, Dr. Harouni can speak fluently in Farsi and English. You can consult anytime by just giving us a call office.